10 Reasons To Elope During COVID-19
Eloping in Alberta is becoming a more common phrase. Over the past 4 months the world has seen an influx in elopement questions and planning during COVID 19 in Alberta, Canada. With the thousands of couples who are struggling to restructure their wedding days, you may be feeling pressure to "figure it all out" ASAP. Maybe you were planning a huge wedding and can no longer gather in large groups, or maybe your family was traveling from out of country to celebrate with you OR maybe YOU were traveling out of country for a destination elopement or wedding!
While I know this is not exactly what you had planned originally, I think you will find elopements are the perfect way to celebrate your love! Lucky for you : we are so fortunate to live in a gorgeous country like Canada where we have the Canadian Rockies just a short road-trip away.
Keeping reading to find see my top 10 reasons that eloping during COVID-19 is actually a great idea!
Love Isn't Cancelled: A Guide to Last Minute Elopement Planning During Covid-19
1. You get to make your day all about you and your partner
Eloping takes away a lot of the stresses when it comes to planning your wedding. There are still many logistics to plan for when eloping, but don't worry – I have been doing this for years and am here to help however I can with finding the perfect location to share your vows with one another and with building your custom timeline!
A secret? I am especially passionate about the planning stages of elopements!
2. Your loved ones can still be included
It's a common misconception that eloping couples do not care about their loved ones. Obviously that is false, and you know that. Family and friends are two of the most important pillars of what makes us who we are and you're not choosing to elope to intentionally hurt them!
There are a million ways to celebrate your elopement and still include your loved ones should you want to – and we actually still work with couples planning intimate weddings, with under 30 guests.
Alberta: There are additional restrictions which can be found here regarding mass gatherings.
British Colombia: BC's restrictions are different from Alberta's, so if you are thinking of celebrating in Yoho National Park, information can be found here.
Canada: Nationally, here are some greats sources for information about COVID in Canada, gatherings and travel.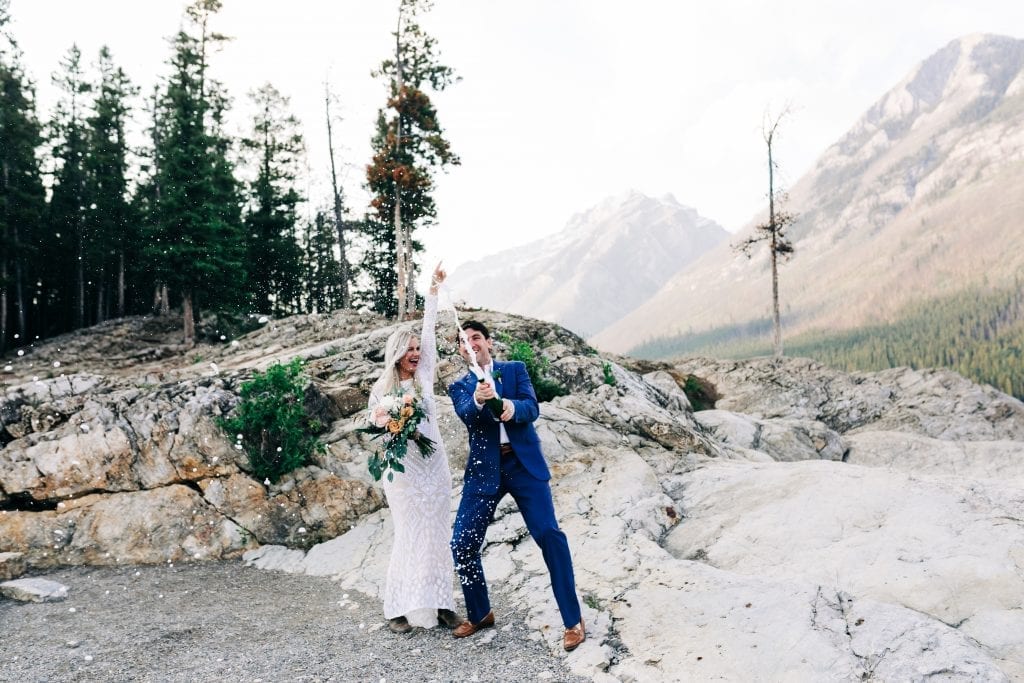 3. Alberta summers are the best
What better time to enjoy the breathtaking scenery in the Canadian Rockies! You can go hiking, backpacking, canoeing or even caving – and with our long days in the summer months, your options are endless. Believe it or not, the image above was taken after 10pm during the summer solstice! We have so much gorgeous light for so many hours each day right now, I highly recommend making the most of it!
Alternatively, fall is my absolute favourite time to being in the mountains, with the crisp cool air and dramatic clouds. If you're a basic fall bitch like me, let's plan something during the season that resonates deeply within your soul!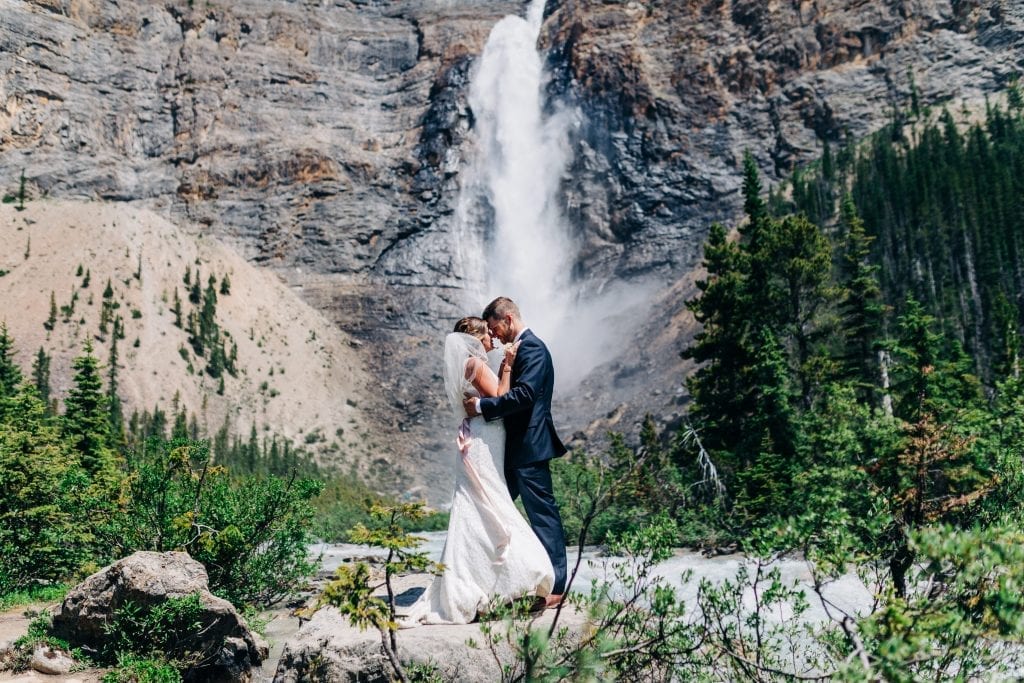 4. Your options for scenery are endless
There are endless options for eloping in Alberta. Want to elope near a waterfall or a breathtaking lake? Heck ya! What about inside a canyon and then dance your hearts away under the stars? Just because you are Eloping During COVID-19 doesn't mean you can't see those sights! In fact, it's the opposite (see number 6 below!)
I have a (rather lengthy!) questionnaire that will help you so much with figuring out what are the ideal locations for you two (i.e. waterfall, lakeside, mountain top, etc). This year the tourism season is obviously entirely different than other years, but estimates show the summer and fall are still a very busy time in Banff. We can definitely make magic happen and find some secluded locations. I am especially passionate about helping couples find hidden gems – those off the beaten path, stunning, "secret" type of locations to say their vows.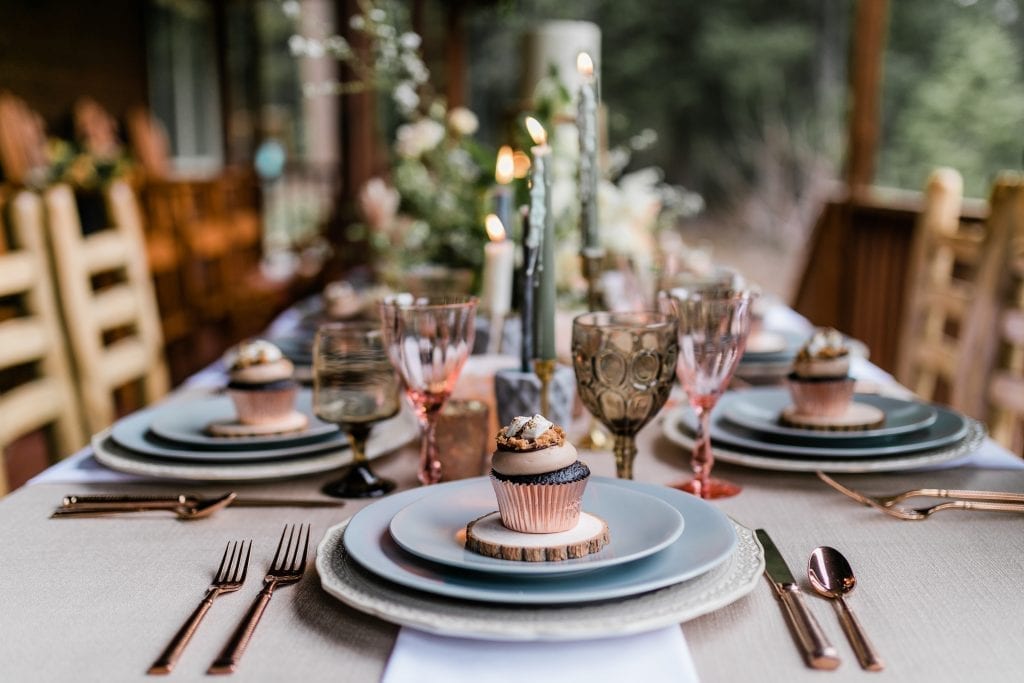 5. Vendors are still able to be booked
Even though COVID-19 has impacted your event, it doesn't mean that you can't include certain services or activities for your elopement.
Yes, you can still wear that dress that you love while  Eloping During Coronavirus!
Vendors can still make the cake and flowers you picked out.
Hair and makeup services have now opened back up in most instances.
Yes, you can go hiking, backpacking, canoeing or even caving!
6. Your options for adventure are limitless
There are some pretty epic options for elopements due to COVID-19 in the Canadian Rockies right now. You have all of the freedom to craft your day to reflect who you are as a couple. You get to choose your epic location to elope, spend your time doing outdoor activities, and even share your vows at sunrise or sunset!

7. Officiants

are

legally allowed you marry you during COVID-19
You can still have an officiant marry you! They have a whole new set of protocol to follow, but there are many ways to include this service while eloping during COVID-19. One thing I truly love about working with officiants is how hard they work to make sure your ceremony is a reflection of your love story and values. They are truly passionate about making your day as unique and true to you as possible. Eloping During Coronavirus
Alternatively when eloping in Alberta, you can apply to the Alberta Government to issue a temporary commissioner permit to a friend or family member to perform the ceremony.
8. Your calligrapher can make you a custom COVID-19 Elopement Announcement

And why wouldn't you? Maybe you are going to have a big reception to celebrate with all your friends and family in 2021 or 2022. Or maybe you just like pretty stationary, with gorgeous fonts (guilty!)
This a beautiful way to make the announcement to friends and family that you eloped! Bonus, it is also offers a family heirloom and keepsake for generations to come! Just imagine sitting around the living room in 80 years surrounded by your family, looking through images and items from your past "back during the pandemic, when nonny and pop-pop were married" (pst: you're the nonnies and pop-pops in this example)
What I'm trying to explain here is that the day is about the two of you designing The Best Day Ever from start to finish. I just want to tell your story! Eloping in Alberta is a possibility during COVID-19. With my help, you can communicate this amazing experience to everyone at home that you care about. Whether that's your family, your friends or others, eloping During Coronavirus can be epic. You two can look back on this experience year after year, and not forget a single moment. You're intentionally creating a day about the two of you. Eloping During Coronavirus
---
Thank you for reading this Eloping During COVID-19 resource. If you enjoyed it, please feel free to check out my Guide to Planning Adventure Elopements.