!  5 Tips for Your Jasper Elopement
Banff or Jasper. Jasper or Banff.
Do not get me wrong, I love Banff National Park so much! And you might be wondering who the heck Jasper is and why we are talking about him (or her or they or both or neither!) Well, Jasper is the lesser known National Park that is just north of Banff National Park in the Canadian Rockies. Why would you want to consider eloping here? The main reason is it is not as well known around the world, and takes a little more dedication to reach (see the map below). Many tourists do not make it all the way to Jasper National Park, and even if they do it is just for a day. Jasper National Park Elopement
This means that Jasper National Park is just as beautiful as, and even more wild then, Banff but is a quieter, less busy option – and isn't that what your wedding day is all about?
Elopements (regardless of where in the world you are eloping) are intentional, deeply emotional and all about your love for each other! It's not about pleasing your guests or making a show in front of a room of family, friends & strangers. And it definitely is not limited to being a ceremony that happens in less than 30 seconds at a courthouse. So what are they?
An adventure elopement is all about getting out into nature. Finding the most breathtaking epic scenery for the two of you to commit your lives to each other. Keep reading to find my 5 Tips for Your Jasper Elopement!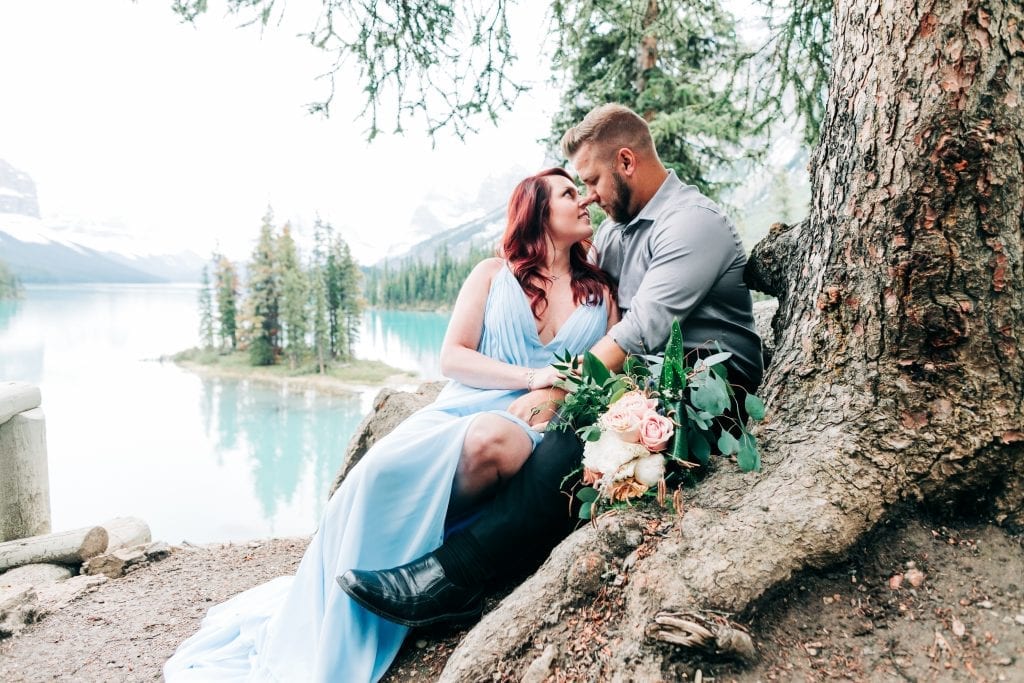 It can look like just the two of you climbing a mountain and saying your vows under a waterfall near the top; inviting your immediate family to witness anywhere in the world; or bringing your 30 closest peeps to the top of Maligne Lookout with you to celebrate your love.
The best thing about eloping is that there are no rules and you can create an intentionally intimate wedding day that truly reflects who you are. Your elopement is the day you are married; it is still a wedding and should not be treated like an all-day photo shoot – we all know the best moments are the ones in between, the laughs, stollen kisses and windswept emotions, and thats what I am here for!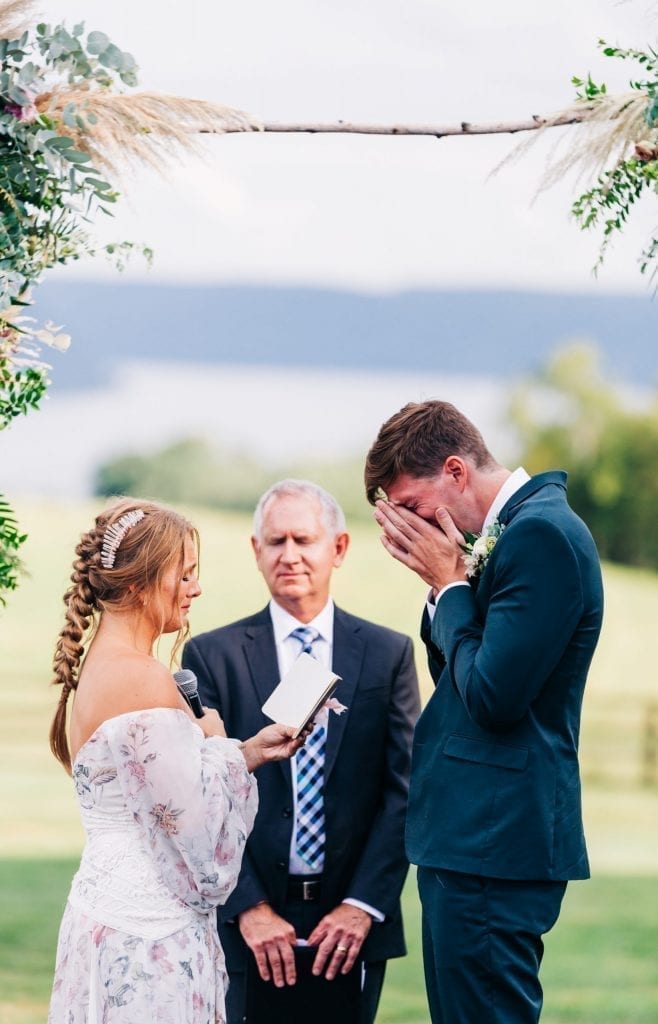 01. What do we need to make it legal in Jasper?
Firstly, yes even if you are not Canadian (hola at my International clients!!), you can be legally wed in Jasper. Step one is to find the perfect wedding officiant for you. Next, you will need to pick up a marriage license at any Alberta Registry office – these are good for 90 days from date of issue & some officiants will do this as a service for you, make sure to ask whoever you hire!
During the ceremony, you need 2 people to act as witness – I would be honoured to sign the documents for you.
Many of my couples who do not have friends and family joining arrange with either a vendor (hair and makeup artists, Air BnB owners, etc) to act as the 2nd witness.
After the ceremony, the officiant will submit the marriage licence to the Province of Alberta – and then, it's a done deal! Yay! You're married!!
For more info to get married in Jasper here is information on getting a marriage license visit Service Alberta There are some conditions for Jasper National Park Elopement.
02. Where is the best location to share our vows?
There are literally so many amazing options
– I always joke about how even the ditch would make for great images, but it is true! Usually that's where all the wildflowers grow!! Once you two have answered my super in-depth Getting To Know You questionnaire, I dig head first into finding your dream location to share your vows to one another.
If you are planning an intimate wedding and want to have a more formalized ceremony with friends and family these are some of my favourites in Jasper National Park.
Outdoor Ceremony Locations
Jasper Park Lodge
Maligne Lookout
Maligne Lake
Pyramid Lake
Athabasca Day Use
Overlander Mountain Lodge
Indoor Ceremony Locations
Our Lady of Lourdes Catholic Parish
Jasper Lutheran Church
Jasper United Church
St. Mary & St. George Anglican Church
Jasper Park Lodge
Sawridge Inn
Pyramid Lake
Maligne Lake
Maligne Canyon Wilderness Kitchen
Overlander Mountain Lodge
This is by no means an exhaustive list as many of the Jasper area inns & hotels offer both outdoor & indoor ceremonies, as well as receptions on their properties.
For additional questions about or to book either Pyramid Lake or Athabasca Day Use areas for your Jasper National Park Elopement, please contact: jaspergroups@pc.gc.ca
03. Daylight makes or breaks outdoor ceremonies.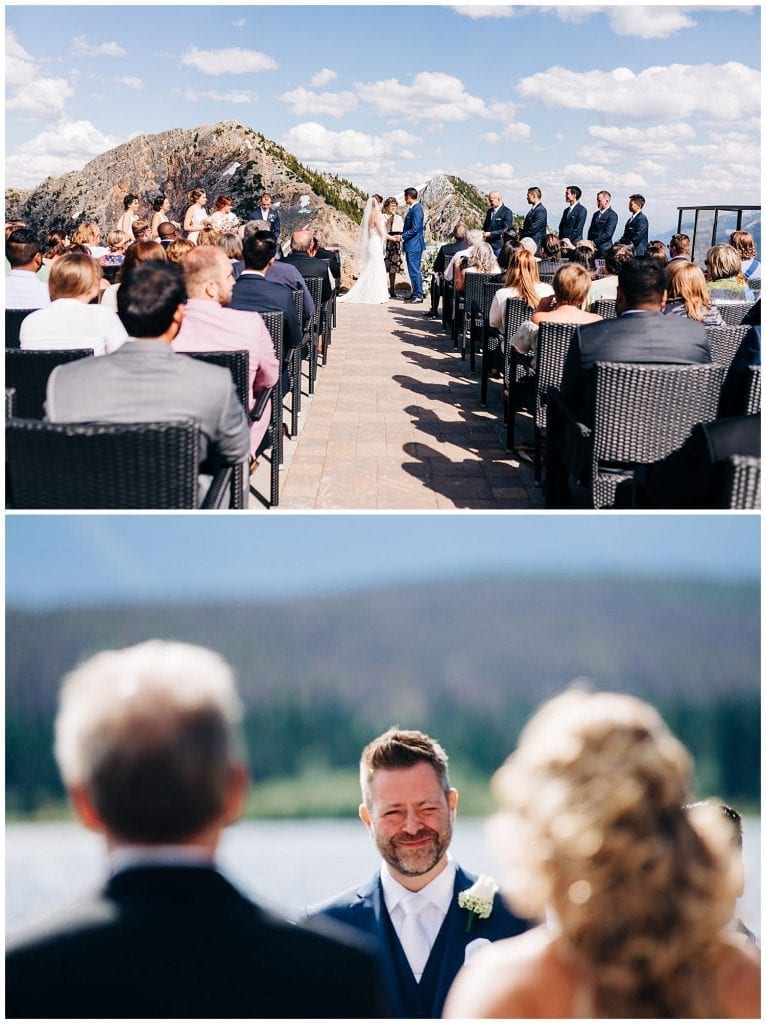 Truth time! 99% of the images on my website are either taken before 7am or after 8pm. If my style is what you are hiring me for, then please read this section carefully!
It is so important to look at what time the sunsets on your wedding day, because it might surprise you!
We have some long summer days around here and in June with the sunrise at 5:20am & sunset is as late as 10:00pm! If you are planning a winter wedding, sunsets are as early as 4:20pm, with much shorter hours of daylight available.
I have some amazing tools I use to watch the astronomical sunrise/sunset times on your planned elopement day, however here are some great resources you might like:
While I am here to help and guide you and will let you know the best time for photos on your day – spoiler alert, it is sunrise and sunset – I understand some ceremonies with families in attendance are not going to be at 6am.
5 Tips for Your Jasper Elopement
Regardless if you are eloping with just your partner, or with family and friends, be prepared for an early morning. We will be getting to location before sunrise so that you can share your vows with the rising sun. This makes the best images, and leaves the entire day to spend together, making the most amazing memories.
If you dream of a formalized ceremony later in the day – that's okay! I still strongly suggest taking this once in a life time opportunity to share the rising sun on your wedding day, something so sacred and magical. We can make this a special moment for just the two of you, with me being the third wheel of course!
04. Wildlife
Yes, there are large bears here, and wolves, elk and cougars too!
Wildlife is one of the most beautiful parts of our beautiful & untamed Jasper National Park, and so please – Obey all signs, and don't feed the wildlife. I will be checking the weeks & days before your wedding day for any updated postings on wildlife in the area, especially as this often means trail closures. If you see "bear in area" signs along any trails, keep your heads up, travel together and make noise. Read up on what to do in case of a wildlife encounter so that you are prepared. It's extremely rare to have an incident, but it is something to be aware of.
Besides my camera gear, I have so many items I take with me in my pack for clients like emergency blankets, extra gloves, wool socks, spare headlamps, snacks and water, a first-aid kit, emergency SPOT system, bear spray, and more! I actually have Wilderness Training, including Bear Awareness training, a First-Aid certification! This is all to make sure we have the best, safest experience during your adventure elopement day.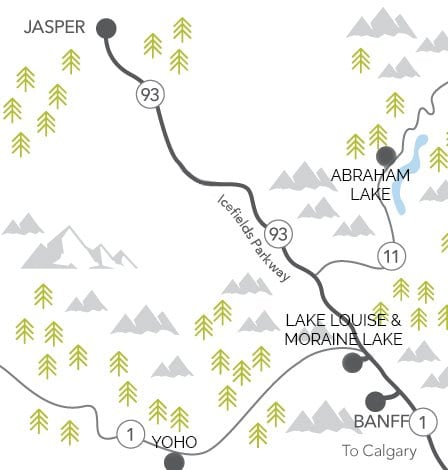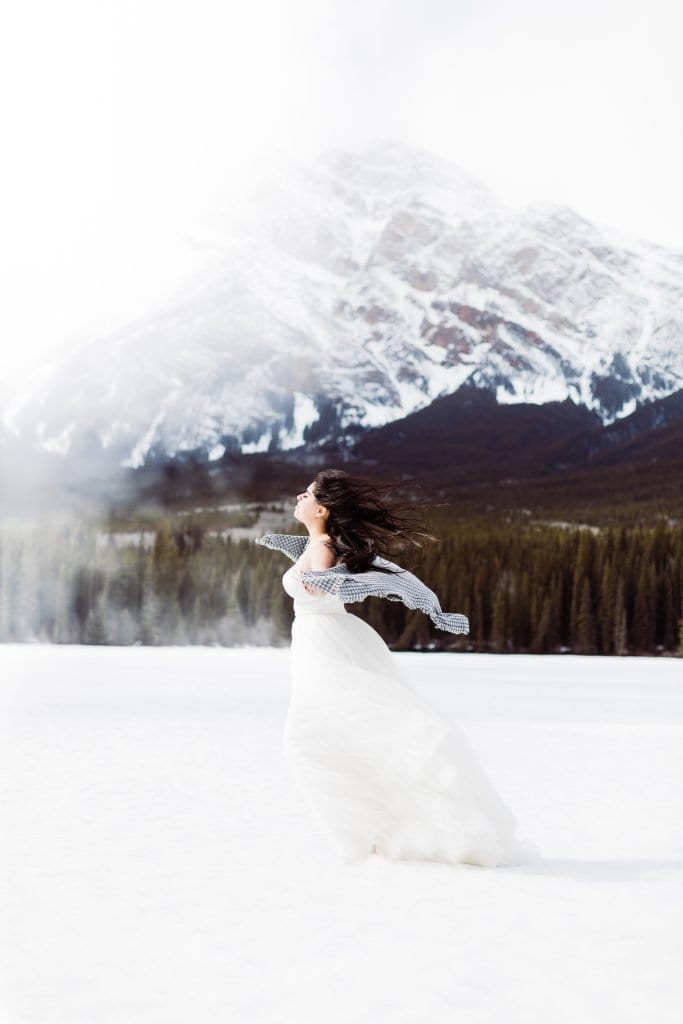 05. Highway delays, Traffic & Parking is a consideration
Hold up, where the heck is Jasper? Most people who are not local to Alberta have never heard of it! But you can see here that it is north of Banff National Park, along highway 16 from Edmonton, Alberta.
With the area becoming increasingly popular for tourism, congestion on the roads is becoming a thing around the Town of Jasper. On long weekends and over the peak months of July and August in particular. Roads towards major attractions, like Medicine Lake & Maligne Canyon are often busy!
I do recommend purchasing a Parks Pass before your trip, so that you can skip the line at the Gate &  drive right into the park without needing to stop at the toll house. Parks Passes can also be purchased in the Town of Jasper, but there is always a line there too!
Planning extra buffer times between locations, especially in the summer months, is pivotal!
Did you know you can take the passenger train VIA Rail through the Rockies to Jasper? I have done it and let me tell you, it is an unforgettable experience!!
The biggest tip is to carpool when possible, or booking a private shuttle (there is no public bus system in Jasper).
For winter weddings in this area, just be careful around days with ice & snow, and expect traffic to be slow. Highway closures from Hinton do happen on heavy snowfall days, I always recommend giving yourself a little time before & after the wedding in case of a road closure. Don't plan on international traveling the day before or after the wedding, just to be safe. Jasper National Park Elopement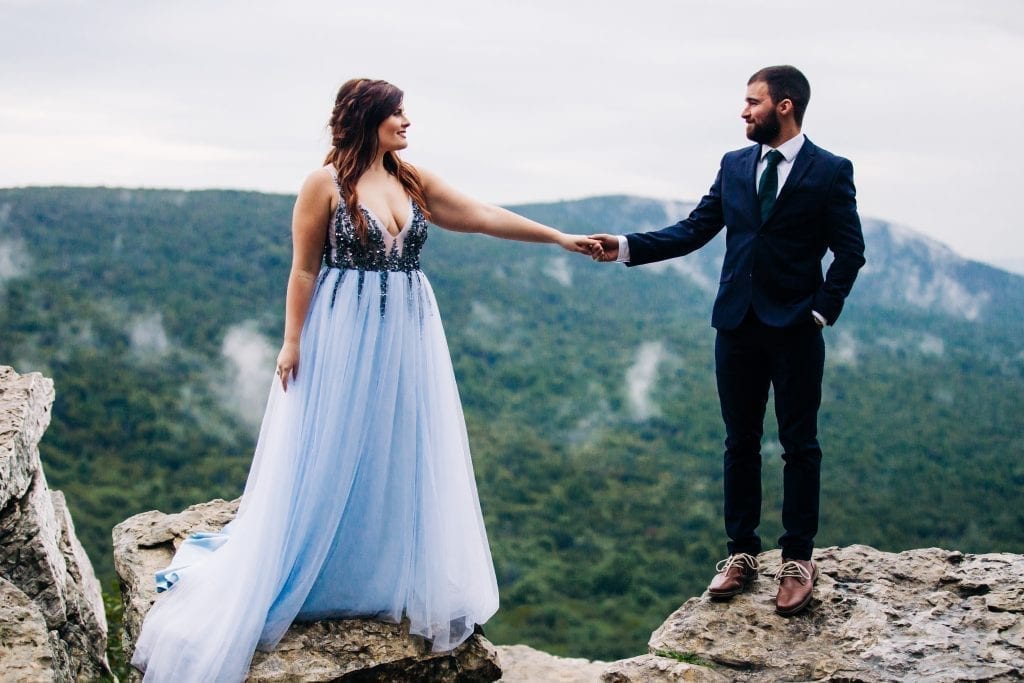 Still need a little inspiration? Check out my travel schedule for 2019-2020 and if there is anything that catches your eye, or that inspires you on a whole new location idea – let me know! I would love to travel anywhere to make your elopement dreams come true! I also have some epic travel stories from my adventures in Peru, Ireland, Iceland and Nepal that you can soak in and get some inspiration from.
06. Bonus tip! Making An Adventure-Ready Look For Your Jasper National Park Elopement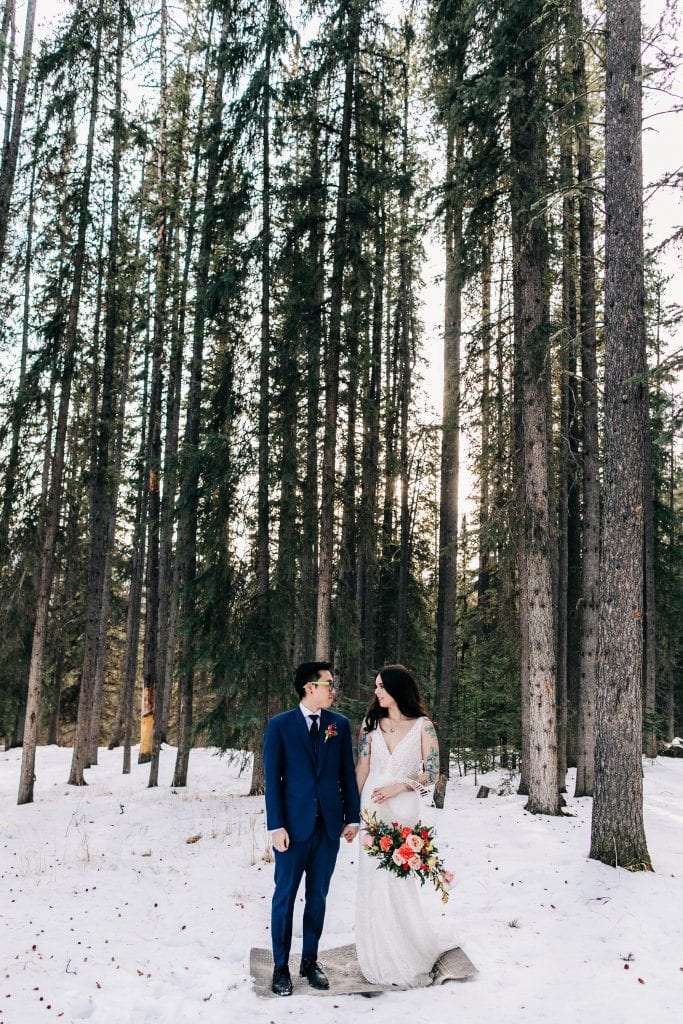 When it comes to wedding day attire for an adventure elopement, comfort is key! That being said, we don't think you should give up your personal style — or your dream wedding outfit. Some simple modifications could be all you really need the create an adventure-ready look. This might mean opting for a light-weight suit rather than a tuxedo. Or even a more casual ensemble, so you can move easier throughout the day. Or maybe choosing a wedding dress without a train or adding a bustle! This will let you can tie it up as you walk and let it down for the vow exchange / portraits.
Nude leggings for under dresses and wool-based UnderArmour layers are key!
If you're worried about damaging or dirtying your dress, I recommend going with a less-expensive option, light weight one that is under $200!
You can read more about my Adventure Styling Guide here!
Jasper National Park
The key to a perfect adventure elopement, whether you're a bride or groom, is your shoes. Choose shoes that are sturdy and slip-resistant — and bonus if they are waterproof!
Junebug Weddings has a ton of inspiration to help you finish your look, in style and comfort. Check it out below!
No matter where in the world you dream to have your adventure elopement and intimate wedding, I would be honoured to join you and make your wedding day everything you have ever envisioned it to be.
xx Melissa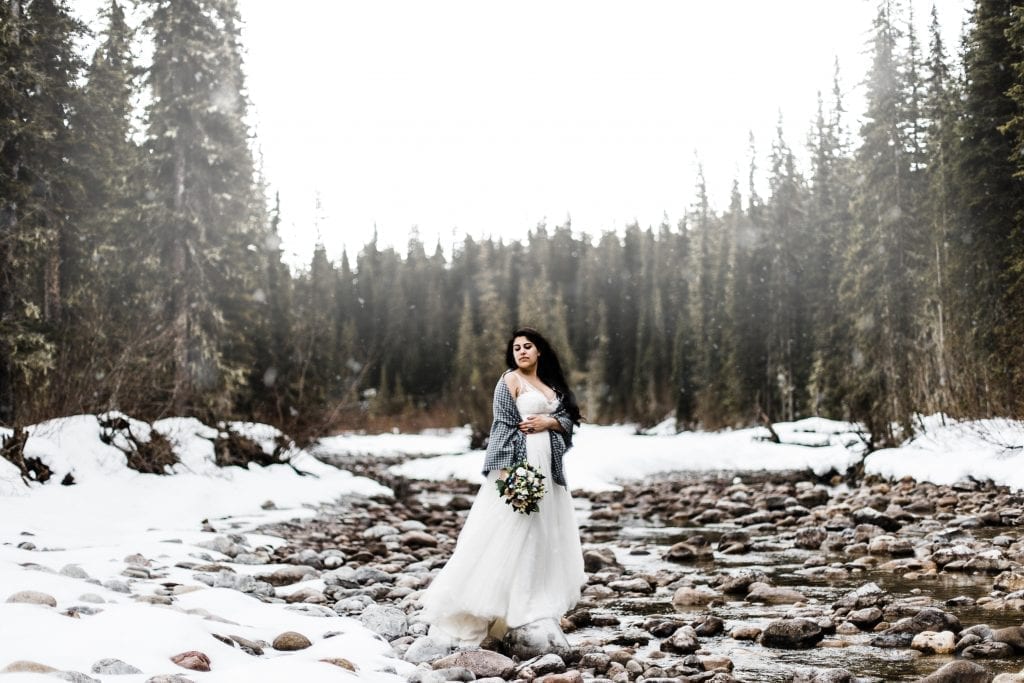 ---
Please make sure to view my Elopement Resources & Inspiration posts, including my recent 5 Tips for Your Banff Elopement & Guide to Planning Epic Adventure Elopements!!