The Guide to Planning Epic Adventure Elopements
As an adventure elopement photographer, I get asked all the time how couples and clients pick their locations, or how I find the perfect spots for them to share their vows. An adventure elopement is all about getting out into nature and finding the most breathtaking epic scenery for the two of you to commit your lives to each other. My Guide to Planning Epic Adventure Elopements is here to help set you on the right path! Guide to Planning Adventure Elopements

First off, elopements are intentional, deeply emotional and all about your love for each other! It's not about the caterer, d.j, pleasing your guests or making a huge show in front of a room full of family, friends and sometimes total strangers – and it definitely is not a ceremony that happens in less than 30 seconds at a courthouse.
It can look like just the two of you climbing a mountain and saying your vows under a waterfall near the top; inviting your immediate family to witness anywhere in the world; or bringing your 30 closest peeps to take the gondola up the top of Kicking Horse Mountain Resort with you to celebrate your love.
The best thing about eloping is that there are no rules and you can create an intentionally intimate wedding day that truly reflects who you are. Your elopement is the day you are married; it is still a wedding and should not be treated like an all-day photo shoot – we all know the best moments are the ones in between, the laughs, stollen kisses and windswept emotions, and thats what I am here for!
CHOOSING AN EPIC LOCATION
Let's start with the basics. Close your eyes for a moment and think about what the overall vision for your day is.
Is there a forest, a lake, mountains, or even the coastline nearby?
Do you love adrenaline activities like skiing, hiking, rock climbing, or even taking helicopter flights to alpine ridges?
What is your experience with 4×4 or all-terrain vehicles?
Is it somewhere you have been before, a vacation spot your family always went to?
Are you dreaming of traveling to a bucket-list place location, somewhere you have never physically been to?
Are you afraid of heights?
Have you ever been to high altitudes (Acute Mountain Sickness can occur at altitudes of 5000 feet +/-) and know how it effects your body?
Do you have a preference between cold-weather and hot-weather – have you ever been in either climates?
The location you share your vows with each other is meaningful, and making sure that we have the best options for you is part of my job!

Practical Tips for Choosing a Location
Use your favourite season as a guide
— Because you'll be out in nature, you should choose a date in which you feel comfortable outside! If you want to get married in the mountains but hate cold weather, opt for a summer wedding. If you love the idea of a desert adventure elopement but don't want to break a sweat, choose a fall or winter date when temperatures are cooler. I have so many adventure planning tools to help with location scouting for my clients, I can help you find the perfect location!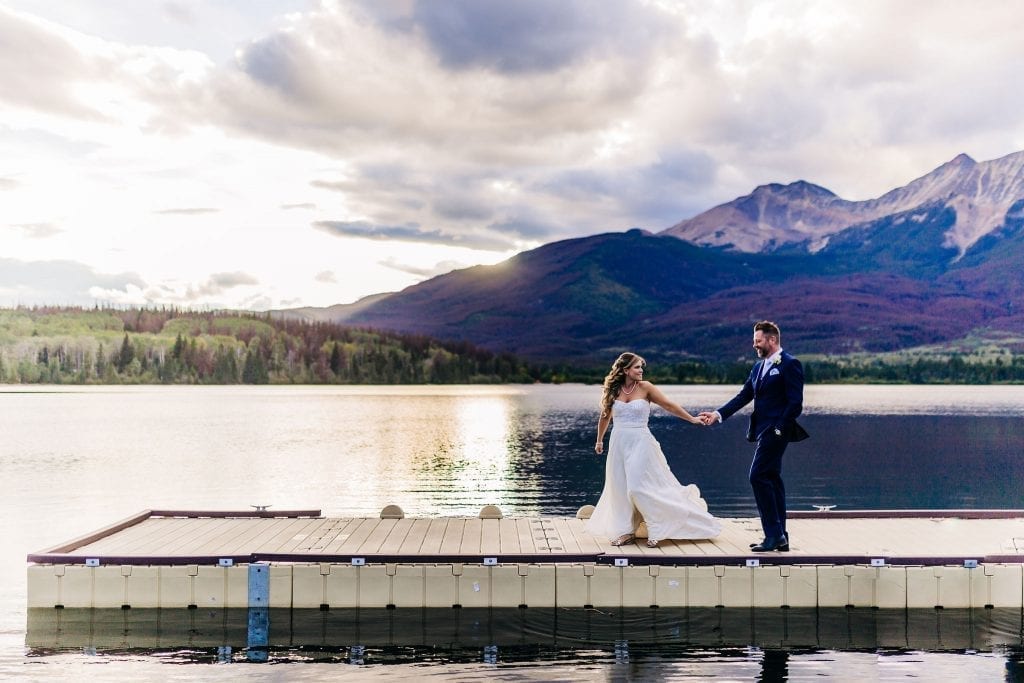 Research the best time(s) to visit 
— Beyond making sure we have good weather, I always guide my couples over important things like peak seasons, local holidays, road closure dates (did you know so many Alpine roads close during the winter for avalanche safety? Don't worry! I know all this information!). If you're going to a place that's guaranteed to have lots of adventure-loving tourists, aka Banff National Park, it is important to plan for sunrise and sunset not only for photographic purposes, but to help avoid some of the 4.18 million tourists.
I am familiar with all these areas and have loads of suggestions for other gorgeous mountain spots too if you're still exploring different ideas. No matter where in the world you are looking to elope, I am especially passionate about helping couples find hidden gems – off the beaten path stunning "secret" type of locations to say their vows.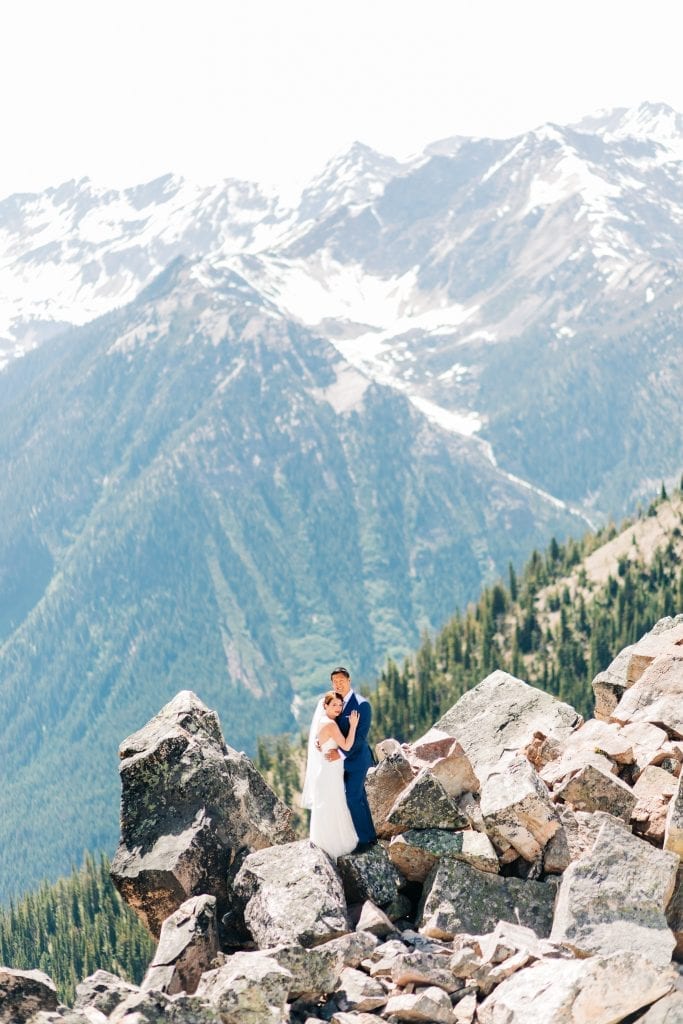 Have a vow exchange spot in mind
— By their very nature, adventure elopements are more spontaneous and carefree than traditional weddings but there is still a need (even a greater need than for traditional weddings!) to plan out a timeline. Why? There is so much flexibility for an elopement, literally anything is possible! Down from location, time of day, amount of coverage and we need to have a plan in place to maximize your day and minimize any setbacks. I send a questionnaire to my couples after they booked me that helps me spend over 20 hours researching very specific location ideas for each of my couples eloping. Together we go over this epic list and look at what really resonates with you and how we can achieve it!
Location Inspiration

Still need a little inspiration? Check out my travel schedule for 2019-2020 and if there is anything that catches your eye, or that inspires you on a whole new location idea – let me know! I would love to travel anywhere to make your elopement dreams come true! I also have some epic travel stories from my adventures in Peru, Ireland, Iceland and Nepal that you can soak in and get some inspiration from.
Note: If you're planning to get married in a National Park, you'll need to get a permit and pay a fee prior to your wedding day. You can check each park's requirements on the Parks Canada website – here are the direct links for Banff and Jasper!

MAKING YOUR LOOK ADVENTURE-READY
When it comes to wedding day attire for an adventure elopement, comfort is key! That being said, we don't think you should give up your personal style — or your dream wedding outfit — entirely. Some simple modifications could be all you really need the create an adventure-ready look.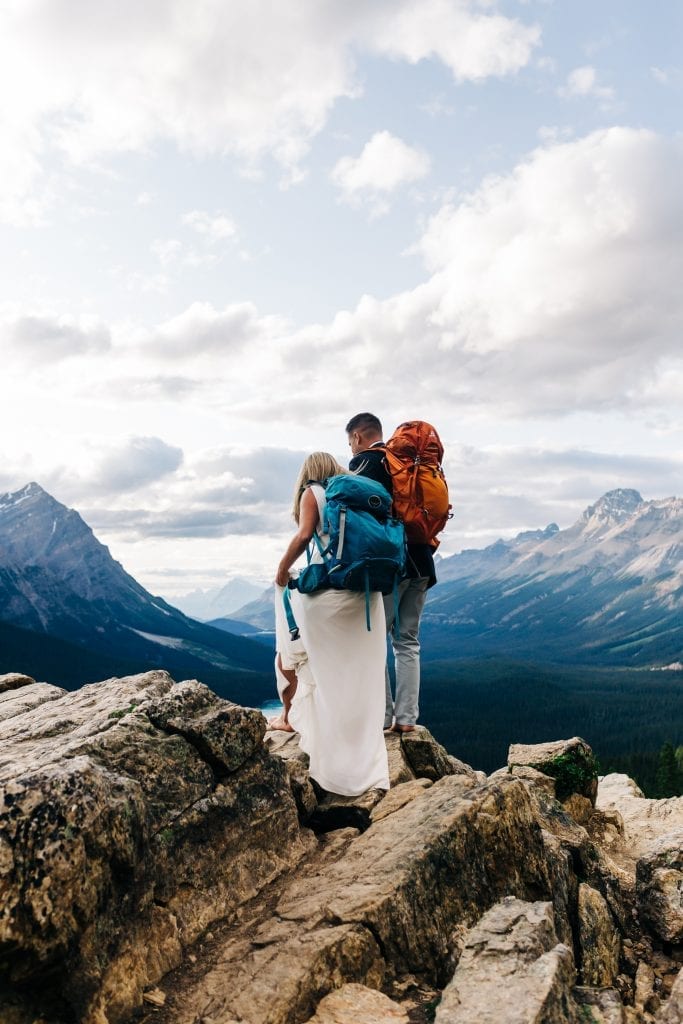 This might mean opting for a light-weight suit rather than a tuxedo, or even a more casual ensemble, so you can move easier throughout the day – or choosing a wedding dress without a train or adding a bustle so you can tie it up as you walk to your location and let it down for the vow exchange and portraits. Nude leggings for under dresses and wool based UnderArmour layers are key!
If you're worried about damaging or dirtying your dress, I recommend going with a less-expensive option, light weight one that is under $200!
The key to a perfect adventure elopement, whether you're a bride or groom, is your shoes. Choose shoes that are sturdy and slip-resistant — and bonus if they are waterproof! Junebug Weddings has a ton of shoe inspiration to help you finish off your adventure-ready look safely, in style (and comfort):
Bridal Boots for Trekking Through Mud and Mountains
Wedding Wedges That are Both Stylish and Comfortable
Wedding Flats for Comfy Brides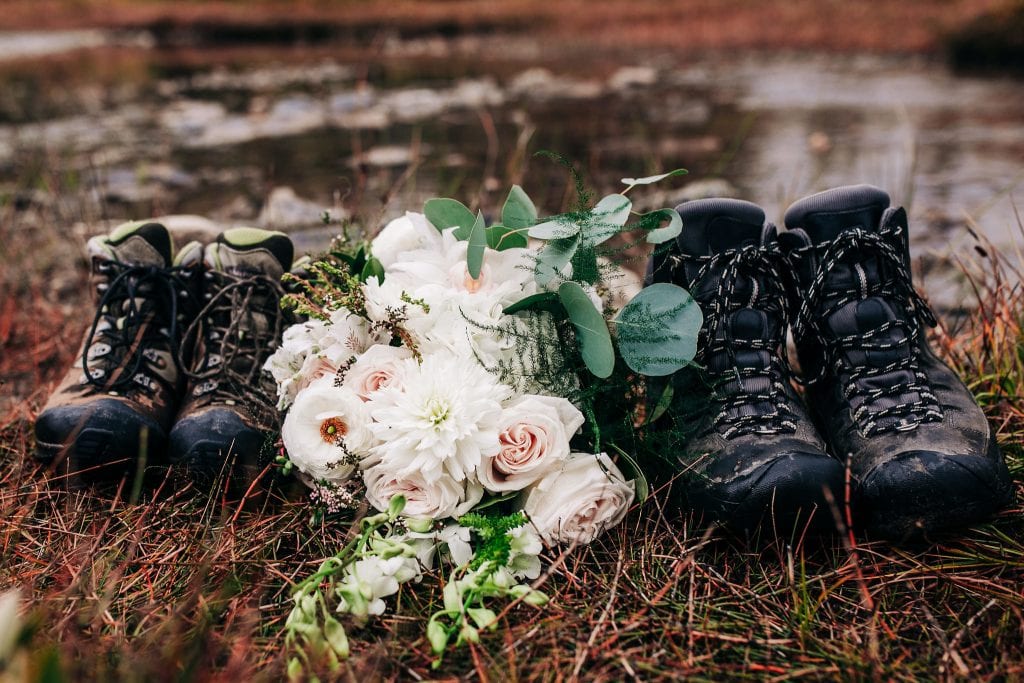 Lastly, besides my camera gear, I have so many items I take with me in my pack for clients like emergency blankets, extra gloves, wool socks, spare headlamps, snacks and water, a first-aid kit, emergency SPOT system, bear spray, and more! I actually have Wilderness Training, including Bear Awareness training, a First-Aid certification! This is all to make sure we have the best, safest experience during your adventure elopement day. Ultimate Guide to Planning Adventure Elopements
DOCUMENTING THE DAY
If you are looking for how this works, my entire website is here to help and be a resource.  You're embarking on one of the most epic adventures of your life, and I can guarantee you won't regret being able to relive that day with your images!
Just because you are eloping, does that mean your wedding day is less important than any other couple? No, I strongly believe this a myth!
You deserve to have the most beautiful images to hold onto for the rest of your life, that showcase your entire day – from the moment you woke up, to sharing your vows and promises to each other, to adventuring around for epic images, to celebrating over champagne and whiskey.
All of these moments are important part of your wedding day and are worthy to be captured for you to hold onto, to share with friends and family who were maybe not present and to remember your epic wedding day.
There's nothing I love more than helping couples create an authentic intimate wedding day of your dreams, where you conquer an amazing adventure together, and have the privacy & safety to truly be yourselves. You can design the best day for the two of you, from start to finish, and at some point in your grand adventure, be in a gorgeous & unique location and commit your lives to each other.

DECIDING ON THE GUEST LIST
You might think that if you're having an elopement, you can't invite any guests. In fact, that's a huge myth of elopements! Yes, elopements bring us back to what truly matters: the two of you, committing your lives to each other. With the timeline building exercises I go through together with all my couples, you can trust that there is always going to be enough time to capture the two of you on your wedding day. And, if you want to have members of your family present, people who you love and love you back – that is amazing! As on 2019 I photograph elopements of 50 guests and under, so you can always know that there is time to have your friends and family nearby to share in your day and have special moments photographed with them as well.

ADDING PERSONAL TOUCHES
Just because you're having an adventure elopement doesn't mean you can't add some personal touches. In fact I would argue that they are even more important here as you have already infused your wedding day with so much meaning. A bouquet is an easy addition, and I can show you how to transport it easily. To keep it simple, asking local vendors to use flora that is native to the location really helps compliment the natural landscapes.
Some other elements you could incorporate into your adventure elopement:
An antique rug to stand on for your vow exchange
Custom vow books
A flask or bottle of champagne for a toast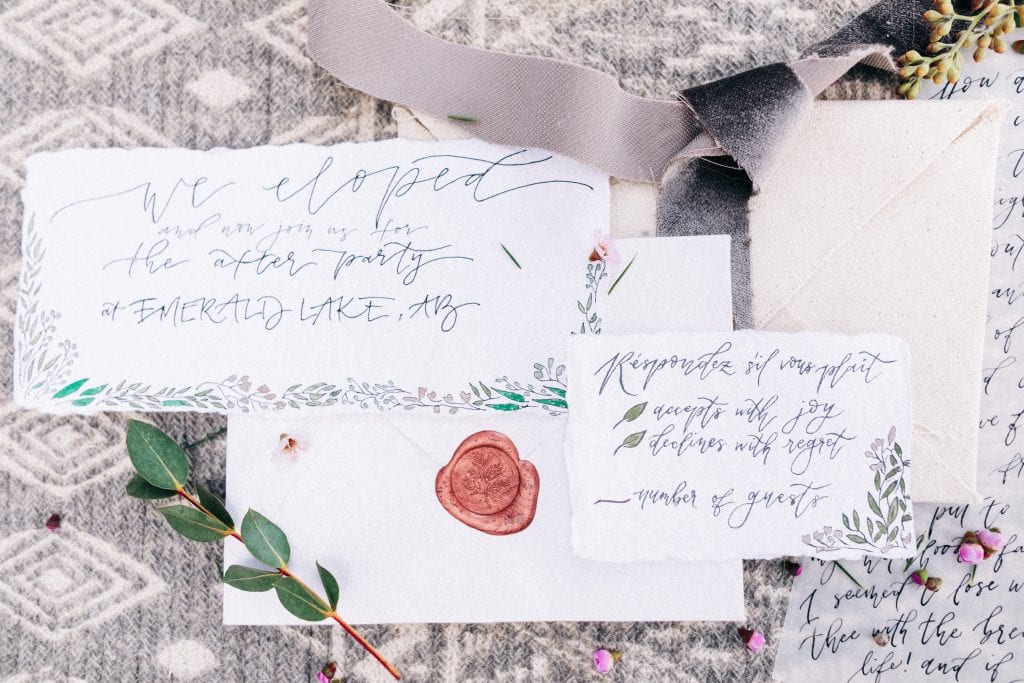 I hope this Guide to Planning Epic Adventure Elopements was helpful and that you are feeling confident and brave in your choice to elope!
No matter where in the world you dream to have your adventure elopement and intimate wedding, I would be honoured to join you and make your wedding day everything you have ever envisioned it to be.
xx Melissa
---
Please make sure to view my Resource and Inspiration blog posts, including my recent Moraine Lake Adventurous Anniversary session and Adventure Elopement at Peyto Lake, both featured on Rocky Mountain Brides!!